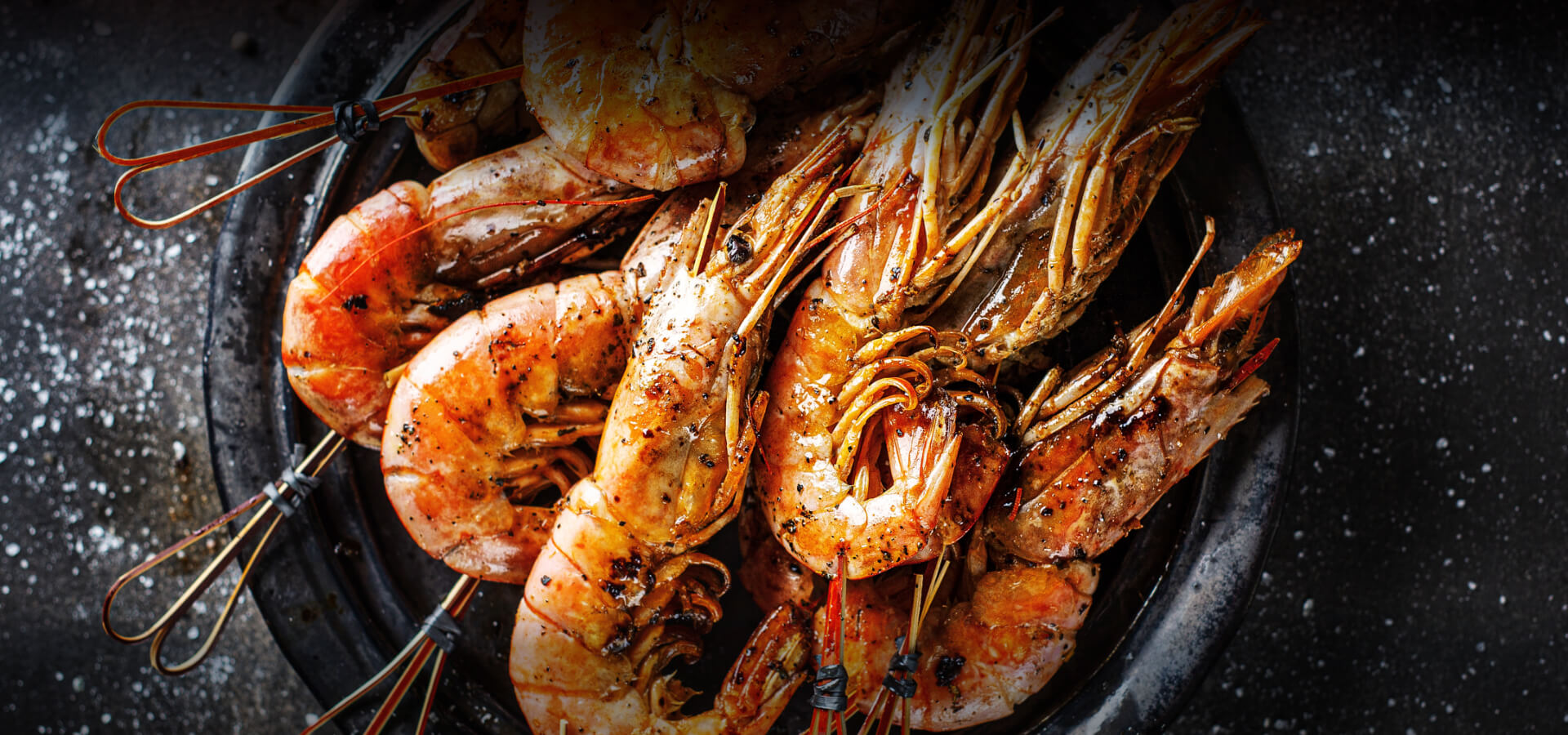 Drawing inspiration from culinary influences around the world, our menu brings together bright and vibrant coastal flavours. Sourcing the best seafood in the Algarve to go along with it, our Chef Filipe Campos pairs this with his local interpretation of Portuguese Cuisine.
Browse our menu by section or if you like too see  our full menu scroll down.
Prices in Euros (€). VAT included
Couvert - Ciabatta & Flat Bread
6.00
Brown Butter, Hummus, Balsamic & Oil
6.00
Togarashi, Teriyaki Sauce
12.50
Pulled Pork, Tonkatsu Sauce, Chili, Shizo Leaf
14.50
Prawn, Crab, Brown Butter Mayo, Spice Mix, Brioche
19.00
Sushi Grade Tuna, Avocado, Tomato Salsa, Jalapenos, Chives
16.00
Piment d' Esplette, Lime Aioli
14.50
Sriracha Mayo, Coriander, Sesame Seeds
19.00
Grilled and Marinated Chicken, Peanut Sauce
13.00
Spicy Garlic & Lemon Butter, Ciabatta Bread
19.00
Garlic, Shallots, Parsley, Chili, White Wine Cream Sauce, Ciabatta Bread
13.00
Fresh Basil, Rocket & Pesto Dressing
14.00
Salmon Poke Bowl (Vegan Adaptable)
18.00
Salmon, Wasabi, Seaweed, White Radish, Edamame Beans, Avocado, Pink Ginger, Daikon, Guacamole, Sriracha, Sushi Rice
........ with Tuna +3.00€
18.00
Sumac Roast Chicken, Quinoa, Beetroot, Ricotta & Toasted Walnuts, Pumpkin Seeds, Rocket, Pickled Cucumber, Guacamole, Chipotle Yogurt
15.00
Chicken, Caesar Dressing, Anchovy, Parmesan Cheese, Preserved Lemon & Croutons
15.50
Sauteed Spinach, Garlic & Almond
5.50
5.50
Whole Fresh Fish of the Day
POA
Our fish changes in price, size and variety on a daily basis. Side dishes are not included
POA
Garlic, Shallots, Parsley, Chili, White Wine Cream Sauce, Twice Cooked Fries
24.00
Brazilian Style Prawns, Sweet Peppers, Tomato Red Peper Sauce, Rice
29.00
Spiced Garlic & Lemon Butter, Saffron Rice
32.00
Lime Risotto, Seaweed, Grain Soya Salad
28.00
Grilled Octopus, Peperonata, Black Olives, New Potatoes
32.00
Tempura Cod, Red Cabbage, Onion Mustard, Guacamole, Twice Cooked Fries
.......... with Truffle Parmesan Fries +1.50€
19.00
Market Vegetables, Coconut, Rice
.......... Prawns Instead +3.00€
19.00
Herbs & Spices Coat, Coriander, Jalapeño Sauce, Rice
22.00
Chimichurri Sauce, Grilled Shallots. Twice Cooked Fries
......... Add Tiger Prawns for Surf & Turf +9.00€
......... Add Bearnaise Sauce / Pepper Sauce +2.50€
32.00
Smoked Tomato, Truffle Fries, Bearnaise Sauce, Pepper Sauce
70.00
Fried Chicken Piri Piri Burger
18.00
Red Onion, Pickled Gherkins, House Burger Sauce, Brioche Bun, Twice Cooked Fries
18.00
Crispy Pancetta, Cheddar Cheese, Lettuce, Ketchup & Mayo, Brioche Bun, Twice Cooked Fries
......... with Truffle Parmesan Fries +1.50€
18.00
Fish & Chips with Garden Peas
9.00
9.00
Ice Cream & Chocolate Sauce
5.00
5.00
Pineapple, Coconut Ice Cream, Rum & Spice Syrup
9.00
Strawberry & Vanilla Ice Cream, Boozy Strawberries, Meringue
14.00
Vanilla, Chocolate, Nutella, Salted Caramel, Cheesecake, Strawberry, Coconut
4.00 per scoop
A discretionary service charge of 10% is applied to groups of 6 or more VAT included. We have a complaints book.
No dish, food item or drink, including the couvert, may be charged for if it was placed on the table without the customer having ordered it and as long as the customer did not consume any part of it. (DL 10/2015, 16-01)
Fresh
Delicious
Memorable